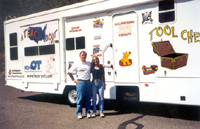 My name is Rick Ruess. My wife and partner on Ateachabout is Diana Henry. We have been living 'on the road' in our Ateachabout RV full-time since February 2000.
Those of you who have attended one of Diana's presentations over the years know that she is a SENSORY SEEKER; to the max I might add. I, on the other hand, am a sensory avoider. This article is about MY sensory preferences and what I do to get my sensory 'tune-up' throughout the day.
As Diana says, "It is not about right or wrong, it is just about who we are." I have heard that there are some people who believe that sensory integration, sensory processing, sensory...?, whatever you wish to call it, does not exist. What planet are you from?
Click here - Four page article to download as a PDF
---

The Sensory Processing Measure (SPM)
Awakens a Psychologist
To Sensory Integration and Sensory Processing Disorder
I first heard of Sensory Integration (SI) and Jean Ayres in the mid 1970's when I was training as a School Counselor/Psychologist with the New South Wales Department of Education in Australia. It was a time when theories about exceptionality in children were dominated by Sensory Motor approaches. Kephardt was very popular and at least one special school in Sydney based it's curriculum on his theory. Parents of children with a variety of school and behavioral difficulties enrolled their children in sensory motor and SI programs in the belief that their children's problems would be cured, or at least greatly minimized.
Unfortunately, it was found that many of these programs did not produce the outcomes promised by those applying the theory. Fidelity to SI Intervention was not yet developed. SI moved off my radar. It was recently brought back to centre stage for me by American occupational therapist (OT), Diana Henry, who visited Australia in December 2009 to run a series of hands-on workshops based on SI/Sensory Processing Disorders (SPD), which I was fortunate to attend.
Diana was an inspiration. Apart from explaining the neurology behind SI/SPD, she also emphasized a team approach, involving not just professionals and parents, but also aides, bus drivers and the like. To her, therapy has to be fun - it has to be integrated into play in which the child is an active participant, and they also have choices about activities and participation. Finally, her model of consultation is based on empathic regard (seeing things from the others' perspectives) for all involved, something all psychologists will understand.
Diana with her colleagues has embodied these approaches in a psychometric instrument - the Sensory Processing Measure (SPM), which really made me sit up and take notice. Here's an OT using one of psychology's main techniques and making it work. The SPM is an observational measure designed to establish if an individual has a sensory processing difficulty or not and if so, what is the nature of this difficulty. Different forms are provided not only for home and school (which are conveniently co-normed), but for bus drivers and specialist classes such as Music, Art and P.E., emphasizing her collaborative approach. Normative statistics (T Scores; cut scores) are provided - any psychologist will feel right at home. The SPM also includes a scale for Social Participation, which provides a focus on adaptation and assists with differential diagnosis of sensory and behavioral issues.
On reflection, I think that SI was oversold in the past without adequate research to support evidence based practice. However, some psychologists like me may have thrown the baby out with the bathwater. Diana's workshops and case studies clearly illustrated where SI/Sensory Processing is a very useful way to view the needs of a child. Psychologists who only look through a behavioral lens may well be missing some very important SI/SPD issues. The SPM is a great way of checking if there are sensory issues underlying social and behavioral difficulties.
Of course OT's have known the value of SI since the 70's, especially in early intervention with students with a range of difficulties, including those with Autism Spectrum Disorders. Hopefully OT's will include psychologists in their assessments and treatment planning, so more psychologists will come to appreciate the value of SI/Sensory Processing. Best practice using a collaborative model could be promoted with psychologists, speech therapists, physiotherapists, early intervention specialists, teachers, and parents all working together using the SPM.
Author, Walter Howe is an Educational and Developmental Psychologist based in Sydney, Australia. His company, Psychological Assessments Australia (PAA), sponsored Diana Henry's visit to Australia.

Walter (Wally), Diana, and participants in a movement activity during the Sydney workshop
---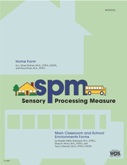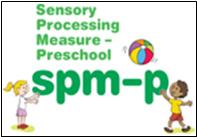 Sensory Processing Measure (SPM) &
Sensory Processing Measure-Preschool (SPM-P)
Chat with Diana A. Henry, MS, OTR/L, FAOTA
on Deanna Iris Sava's www.otexchange.com
Click here - Seven page transcript to download as a PDF
---

Wall Street Journal article February 26, 2013 link:
Separating Growing Pains From Warning Signs in Kids (http://m.wsj.com/articles/a/SB10001424127887324338604578326112816120302?mg=reno64-wsj)

---
Staying in touch
by Danielle Portteus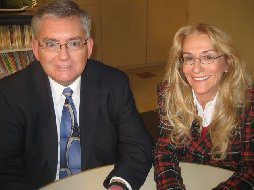 Monroe Road Elementary School is at the forefront of implementing sensory tools in each classroom.

Because of its efforts, the school was chosen as the site for two webinar tapings last week.

The webinars are hosted by Diana Henry, an occupational therapist, who tours the country promoting the use of sensory tools in the schools.

Mrs. Henry, the president of Henry Occupational Therapy Services, said she met the school's former principal, Ken Graf, before Monroe Road was built. Their friendship led to Mrs. Henry coming to the district to host seminars and eventually to the webinar tapings.

"Monroe Road has really embraced these concepts," Mrs. Henry said.

The first webinar, called "10 Ways to Movement for School Success: Sensory Processing Solutions for Educators and Parents," focuses on introducing movement into the school day. In occupational therapy research, there is evidence that an increase in activity levels throughout the day helps children's cognition and alertness, Mrs. Henry said.

The second webinar, called "10 Ways to Implement Response to Intervention (RTI) with Sensory Strategies," focuses on how Monroe Road Elementary implemented the strategies in the classroom. The webinars were filmed by George and Lori Welling, owners of Triple L Productions of Temperance.

Some of the tools Mrs. Henry suggests to introduce movement include adding chair balls, practice handwriting games, give students "heavy jobs" and incorporate recess into the school day.

Giving students who are antsy a heavy job to perform helps calm them, she said. An example of a heavy job is moving books. "Connecting the body and the brain is an important part of learning," Mrs. Henry said. "Movement helps increase attention levels."

Chair balls are inflatable vinyl balls with feet at the bottom with the purpose of improving students' balance, posture, attention and even handwriting, Mrs. Henry said. Unstructured play during recess also is important.

Ken Graf, now the district's assistant superintendent for human resources, said while principal he tried to incorporate many of Mrs. Henry's suggestions.

"Recess is encouraged," Mr. Graf said. "There are a lot of schools who are taking it away, but that was one thing we didn't want to do."

Children need time to unwind, Mr. Graf said.

"It makes them more productive in class," he said. "We also encourage 'fresh air' breaks where teachers would take their class outside for a short time."

To help, Mr. Graf and his team created a playground catering to children's need to jump and spin.

"Spinning can be calming for children, so we added equipment that would allow them to spin," Mr. Graf said. "Jumping is important as well so we have equipment for that too."

The school has incorporated chair balls in the classroom. Fourth-grade teacher Joe Moore, who participated in the webinar, said there were some concerns at first when introducing some of the sensory devices, but he established rules with his class. "When the children see them as a toy, then it doesn't work," he said during filming.

Mr. Moore has a climbing wall in his classroom for when his students become "wiggly." "It helps them get the extra wiggles out," he said.

Several members of the staff at Monroe Road, including Principal Thea Kirkwood, contributed to the webinar.

Mrs. Kirkwood talked during the webinar about how she, a bus driver and staff members worked with a student who sometimes had trouble on the school bus.

The student would be fine sitting next to a single student, but when asked to sit between two students, he would act up causing the bus driver to get involved.

"We met as a team to assess the situation and determined a solution for the child," Mrs. Kirkwood said during the webinar.

Eventually, there will be four webinars in Mrs. Henry's series, but only the first two will be filmed at Monroe Road. The Internet-based seminars will be available for teachers to earn continuing education credits.

Mrs. Henry has spent the last 35 years teaching these concepts, including the last nine years living in an RV and traveling across the country.

"My hope is that teachers will try some things in their classroom," she said. "Movement and sensory tools in the classroom are not limited to special needs children either. This is really for general education and even adults can benefit from this."
Bedford Now Newspaper, Temperance, MI, January 22, 2009
---
Free play teaches self regulation skills!
Old-Fashioned Play Builds Serious Skills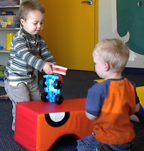 by Alix Spiegel
February 21, 2008 (on NPR)
This was a story on National Public Radio about the value of free play in teaching self regulation skills.
Researchers say imaginative play allows children to make their own rules and practice self-control.
Click here - Four page article to download as a PDF

---
Using Sensory Tools
for Teens With Behavioral and Emotional Problems
By Cathy Dorman, Lindsey Nowotny Lehsten, Mary Woodin,
Renee L. Cohen, Jo A. Schweitzer, Janice Trigilio Tona
By educating teens about the sensory aspects of their bodies, the
Tools for Teens program promotes independence and adaptation
during a time of rapid change.
Click here
- Six page article to download as a PDF
---
Using the Sensory Processing Measure (SPM) in Multiple Practice Areas
By Diana A. Henry, Cheryl E. Ecker, Tara J. Glennon, David Herzberg

Since its publication in 2007, the Sensory Processing Measure (SPM)
has received positive reviews for applicability in both clinical and
school-based practice, in part because it can be scored quickly and
easily. This article illustrates usage through case examples, as well as
discusses important psychometric properties of the tool.
The SPM is a quick, easy-to-use, reliable measure of children's sensory processing and praxis at home and in school environments.
Click here - Five page article to download as a PDF
---
Extreme Sensory Modulation Behaviors in Toddlers with Autism Spectrum Disorders

Written by Ben-Sasson, Cermack, Orsmond, Tager-Flusberg, Carter, Kadiek, and Dunn
American Journal of Occupational Therapy (AJOT)
September/October 2007, 61, 584-592 This study examined the incidence of extreme sensory modulation behaviors in toddlers with autism spectrum disorders (ASD) and investigated the consistency of sensory information across measures. Parent report of sensory behaviors in 101 toddlers with ASD was compared with 100 toddlers who were typically developing matched on chronological age and 99 additional infants or toddlers matched on mental age. Measures included the Infant/Toddler Sensory Profile, Infant–Toddler Social Emotional Assessment, Autism Diagnostic Interview– Revised, and Autism Diagnostic Observation Schedule–Generic. Toddlers with ASD were most distinct from typically developing groups in their high frequency of underresponsiveness and avoiding behaviors and their low frequency of seeking. Within the toddlers with ASD, there were significant associations across sensory parent report measures, but parent report was not correlated with clinical observation. Findings point to the early onset of an extreme sensory profile in ASD. Occupational therapists need to assess multiple domains of sensory behaviors to accurately identify the needs of toddlers with ASD.


Click here - Nine page article to download as a PDF

---
Behavioral Indexes of the Efficacy of Sensory Integration Therapy

Roberts, J. E., King-Thomas, L., & Boccia, M. L. (2007). Behavioral indexes of the efficacy of sensory integration therapy. American Journal of Occupational Therapy, 61, 555-562.
CONCLUSION. Classical sensory integration therapy may be associated with improved self-regulatory behaviors.
Click here - Eight page article to download as a PDF
---
Validating the Diagnosis of Sensory Processing Disorders Using EEG Technology

Davies, P. L., & Gavin, W. J. (2007). Validating the diagnosis of sensory processing disorders using EEG technology. American Journal of Occupational Therapy, 61, 176-189.
CONCLUSION. These results present empirical evidence that children with SPD display unique brain processing mechanisms compared to children who are typically developing and provide external validity for the diagnosis of SPD.
Click here - Fourteen page article to download as a PDF
---
Collecting Data for the Sensory Processing Measure (SPM)
Lessons Learned
By Diana A. Henry, MS, OTR/L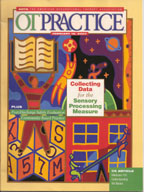 Administrators in U.S. public school systems are increasingly requiring evidence-based interventions, based on the No Child Left Behind Act of 2001, as well as the 2004 re-authorization of the Individuals with Disabilities Education Act (IDEA). Generating and using evidence is also an essential component of the American Occupational Therapy Association's (AOTA's) Centennial Vision.
As a pediatric occupational therapy practitioner "in the trenches" in a school or a clinic, you are probably excited about contributing to and participating in research through active data collection. Although data collection is extremely rewarding, it does have some challenges. In this article I present issues to ponder so you can be successful, and contribute to evidence-based practice (EBP).
Click here - Six page article to download as a PDF
---
Hydrotherapy: A Sensory Integration Treatment Modality
By: Diana A. Henry MS, OTR/L, FAOTA
When sensory integration treatment is recommended, hydrotherapy is an excellent medium. Some of the elements found in traditional SI treatment are also important in hydrotherapy, including family participation and the building
of a sensorimotor base for future skill development.
Click here - Three page article to download as a PDF
---
Not Too Old For Sensory Integration
By Diana A. Henry, MS, OTR/L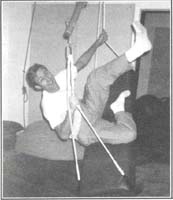 In 1972, when Dr. A. Jean Ayres first defined the sensory integration (SI) process as "the ability to organize sensory information for use", her research focused on identifying specific subtypes or patterns of dysfunction among children. Unfortunately, the emphasis placed on the plasticity of the young brain has been incorrectly interpreted by some to mean that individuals older than
age 7 can no longer benefit from sensory integrative intervention. As clinicians, we can now turn to a scholarly and newly published textbook, Sensory Integration. Theory and Practice (1991), and find the following:
Click here- Two page article to download as a PDF
---
Sensory Integration: It's Not Just For Children
"...We believe that the sensory integration framework can be a useful lens for interpreting behaviors and a guide for implementing strategies to enhance occupational performance in clients across the lifespan... This article makes a case that because humans are sensory beings and sensation is inherent in all occupations, the sensory integration framework is relevant to occupational therapy practice beyond pediatric..."
Authors: Renee Watling, PhD, OTR/L, Stefanie Bodison, MA, OTR/L, Diana A. Henry, MS, OTR/L, CWT, and Heather Miller-Kuhaneck, MS, OTR/L, BCP
Published: 12/2006 in the AOTA SI SIS Quarterly
Click here - Four page article available to download as a PDF
---
Information regarding resources and articles Diana spoke about during her Tools for Pre-Teens and Teens workshop at the OT/PT Institute in Columbus, Ohio, August 2006
1. Mahoney, S. (2004).What was he thinking? Don't blame hormones. New research shows what really causes your teen's weird behavior and what to do about it. Prevention Magazine, 56, 3, 159-165 &199.

2. Butler, K. (2006). Drinking may take big toll on teen brains. Deseretnews.com.

3. Ebbeck, V., & Gibbons, S. L. (1998). The effect of a team building program on the self-conceptions of grade 6 and 7 physical education students. Journal of Sport and Exercise Physiology, 20, 300-310.

4. Pfeiffer, B., Kinnealey,M., M.,Reed, C., & Herzerberg, G. (2005). Sensory modulation and affective disorders in children and adolescents with Asperger's disorders. American Journal of Occupational Therapy, 59, 335-345.

5. Puliti, B. (2006). Standing Room Only: Children learn without chairs in the 'classroom of the future.' Advance for Physical Therapists and PT Assistants 30-31, June 5, 2006.
Click here -Two page article on RECESS available to download as a PDF
Below is the requested Brain Power in Government photo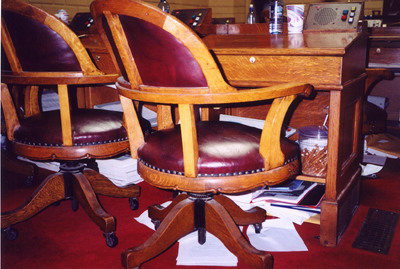 ---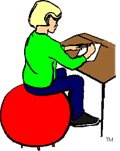 Classroom Seating for Children With Attention Deficit Hyperactivity Disorder:
Therapy Balls Versus Chairs
Denise Lynn Schilling, Kathleen Washington,
Felix F. Billingsley, Jean Deitz
---
Students at a Halifax school have traded in their plastic desk chairs.

Staff have come up with a unique solution to a common classroom problem: fidgety, distracted and inattentive kids. They've traded in the plastic desk chairs for something that might surprise you -- rubber balls. View Article
---
A Childs point of view.... By Zac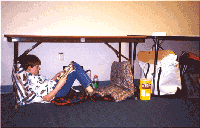 ---