Understanding sensory integration
"We are sensory beings."
So says Diana Henry, who will be visiting Toledo on April 5 and 6 to present her seminar, "Tools for Teachers: How to Incorporate a Sensory Integration Approach." During the seminar, Henry, who has been a pediatric therapist for 25 years, will introduce parents and teachers to the concepts of sensory integration, sensory processing, and sensory defensiveness. Participants will identify one's own sensory needs and learn how to use techniques to incorporate the understanding of sensory integration into home and school life to help children with sensory problems.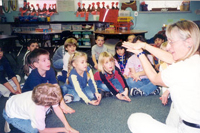 Diana Henry demonstrates the "Spider Push-Ups" activity from "Tools for Students" to first-graders.
Sensory integration is a model for understanding the brain-body connections in children and adults. Do you find yourself longing for a walk outside after being indoors all day? Do you tap your feet under the table during a long meeting? Does background music soothe you or irritate you? Your reactions, and your children's reactions, relate to how your body needs and processes sensory input.
"Sometimes the symptoms of sensory integration problems are seen as behaviors. People look at behaviors and misinterpret the cause," says Henry. She believes some children are misdiagnosed solely with ADD/ADHD, Asberger's syndrome, or autism, when they have an additional component of sensory integration problems or only sensory integration problems.
"Everyone has sensory preferences," says Henry. During the workshop, she teaches adults to uncover their own preferences. Many children, however, have problems integrating the sensory inputs their bodies receive.
"There was a lack of tools that addressed these issues," says Henry. She has created videotapes, "Tools for Teachers" and "Tools for Students" that teach how to interpret behaviors and find solutions for children with sensory integration problems. Parents and teachers become detectives, learning to understand children's behaviors and what they need. "It helps them to become a self-advocate for their needs," says Henry.
Henry and her husband travel in a mobile home throughout the county; they have been on the road since last year. "Part of our mission is to make the concepts of sensory integration user-friendly to the public – especially teachers and parents," says Henry.
The seminar will take place at The Provincial Center at The Sisters of Notre Dame, 3837 Secor Rd. For information, call Rehab Dynamics, the local sponsor, at 269-1550, or visit Henry's Web site, www.ateachabout.com.
This article on ATEACHABOUT was written by Meira F. Zucker.
---
Henry OT Services, Inc
4000 Pipit Place, Flagstaff, AZ 86004
E-Mail: rick@henryot.com